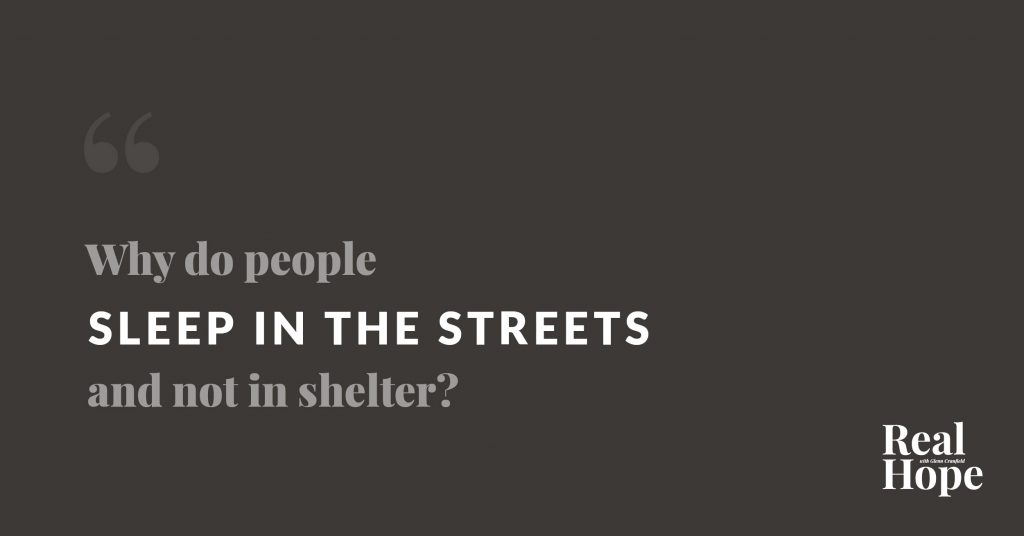 With homeless shelters available all across the country, it's fair to wonder why someone might choose to sleep outside, on the street, or in a tent. However, this seemingly obvious choice has a lot more to it than most people realize.
Unfortunately, some shelters have developed a bad reputation among the homeless community. They are considered dangerous places filled with drugs, thieves, and diseases. Of course, not all shelters are like this. There are lots of great organizations out there providing help and hope, like Nashville Rescue Mission. Still, the poorly run facilities that fit this description may taint the reputation of the others. 
Additionally, a large population of those in the homeless community suffer from untreated mental health issues. Among other things, this can make them distrustful of other people, even those trying to help them. This mistrust manifests itself in a desire for total independence, where someone may prefer to be left entirely alone, and isolated.
Finally, there is a genuine human fear of the unknown to consider. People rely on habits and routines to keep themselves grounded. Shaking up that routine to go with a stranger to some strange place may be extremely stressful, especially for someone who is experiencing homelessness and may also have mental health issues. For many of them, they prefer what they know. They would much rather stick with the routines they've come to develop over their time on the streets, even if those aren't healthy or in their best interest.
This can be a particularly pressing issue during the winter and summer months, when severe weather and extreme temperatures may be dangerous and even deadly for someone living on the streets.
It's why the work we do is so important. It takes the entire community to work together to overcome these obstacles and keep our neighbors in need safe.
Hear Glenn discuss this question and others with Andy Bales, CEO of LA's Union Rescue Mission in this month's episode of Real Hope. Listen on Apple Podcasts and Spotify.